B. J. Foster skiing in Vail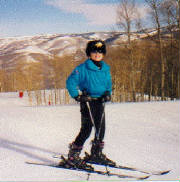 BJ's interest in New Orleans and Southern Louisiana history prompted her to delve into the culture, food, and mystique that provide a setting for her book,

Bayou Shadows

, as well as many other best sellers. Her book,

Bayou Shadows

, has been honored as the winner of a High Country Writers

"Book of the Year" Award.

- Being a certified paralegal, and co-founder, owner, and Vice President of a successful consulting firm handling multi-million dollar in projects over a 20-year period in southeast Texas and southern Louisiana gave her the knowledge to write of the area, as well as a basis for describing other strong women characters.

- BJ Foster is an active member of a number of organizations devoted to writing, including Sisters in Crime, High Country Writers, Bay Area Writers League, Fort Bend Writers Guild, North Carolina Writers Network, Appalachian Writers Association, Georgia Romance Writers, and Romance Writers of America.

- In her leisure time, BJ travels, reads, writes, rides horses, plays golf, skis, and plays tennis. If you wonder how she can do all that in a year's time, so do we. Her year is typically divided into summers in the beautiful Blue Ridge Mountains of western North Carolina, winters skiing in Avon and Vail Colorado, and the remainder of the year in New Orleans and Houston.
Bayou Shadows is a fast-paced novel of suspense, mystery and intrigue with a romantic edge set in vibrant New Orleans.

- For Stacy Stimmons, a gutsy young reporter for the Times-Picayune who grew up in the swamps, getting out of those swamps and building a career to claim her independence is a consuming obsession.

- While working on a newspaper article, she becomes involved with Ryan Townsend, a budding attorney with eyes on "cleaning-up" Louisiana politics. Devastation follows when Stacy discovers that Ryan is entangled in Mafia drug trafficking.

- Believing the romance is doomed, but to secure a story assignment that could catapult her career to success, she enters his world.

- Involved in a dangerous drug bust gone bad, both become targets of the underworld. The adventure that ensues takes them from New Orleans to Jamaica where survival depends on their wit and reliance on each other.
Bayou Shadows

ISBN: 0967588456 | Hardcover | 5½ x 8½ | 267 pages
"Banner Elk author strikes gold"

"Journalists' jobs are never done. That's just one lesson to be learned from Banner Elk Author B.J. Foster's wonderful novel Bayou Shadows. Foster's elegantly written work of fiction shows a lot of promise for her future success as an author. Her words leap off the pages of this delicious book with true richness and beauty. If Bayou Shadows is Foster's first novel, it is hard to imagine where her great talent will go next. She captures her readers from the very first chapter and keeps them satisfied until her book's conclusion.
Foster's tale centers around a beautiful Southern newspaper reporter named Stacy Stimmons. Stacy has it all together. She's stylish, beautiful, intelligent, ambitious, and respected---all the things that should make us hate her out of envy. Yet the reader cannot hate Stacy. It is impossible not to fall in love with this feminist heroine.


Stacy is a woman who will never let a man own or control her. She is her own person and holds the power over her own destiny. She's definitely a positive role model for young women today. Stacy meets her match though when she faces off against a handsome gentleman named Ryan Townsend. Sexual tension is in the air from their first encounter, but is this a good thing for Stacy? Does the mysterious Ryan Townsend have some shocking secret? Is he man enough to be with a strong woman like Stacy? Read the novel and find out for yourself.


Bayou Shadows is the winner of the High Country Writers' "Book of the Year" Award…and I can certainly see why. Run out to your local bookstore and pick up a copy of B.J. Foster's wonderful, romantic-thrill ride of a novel.
Writers with this much sophistication and class don't come around every day."

¾ Mitchell News Journal, Jimmy Autrey II Reviewer, August 8, 2001

"A very good story, a truly touching tale"

"Intrigued with the myths and legends of New Orleans, Texas-born B.J. Foster chose this city as the site of her first novel of love and suspense. Staci Stimmons is a cub reporter working for the infamous editor Mitch McGalliard. Known as one of the best editors in the South, Mitch sends Staci out to the Townsend Plantation to do a story on its upcoming sale. Staci meets Ryan Townsend, nephew of Josh Townsend, the aging owner of the plantation. Ryan is a young lawyer who has political aspirations in Louisiana government. Ryan immediately hones in on Staci, who can't decide if he is a pompous womanizer or the man of her dreams. Before their relationship can get off of the ground, Mitch assigns Staci to cover an impending drug bust. Ryan may be involved, and Staci feels she must know if he is a hero or villain...even if she puts herself in danger: "Apart from helping her career advancement, there was another reason why she couldn't turn it down. If Ryan was involved, she had to know it before she got any more entangled with him. If he wasn't, he was in danger. She might be in a position to discover facts that could protect him." Bayou Shadows is a fast-paced, entertaining story meant for a large audience. B.J. Foster employs an easy, straightforward style of writing that is descriptive and endearing. Her characters are the stuff of romance novels with a little depth added to make them more convincing. The plot is well-defined and easily pulls the reader in for its many ups and downs. B.J. Foster is a new voice on the literary front, and her particular blend of New Orleans mystique, engaging characters, and fast-paced action produce a likeable product that is not only bound for commercial success, but is also instructive. The character of Staci Stimmons is that of a young woman struggling with her own career goals against the backdrop of traditional courtship and love. It is a good story with excellent role models for young women to read, and a sweet and touching tale for the rest of us."

¾ Shelley Glodowski, Reviewer, Midwest Book Review

"Stacy Stimmons pulled herself out of the Texas swamp and now works for the Times-Picayune in New Orleans. She is proud of her accomplishments but feels wasted working on the society and garden articles and hopes for meatier assignments. When she gets to cover the auction of the Townsend plantation, she sees it as an opportunity to write something meaningful about the gobbling up of historical homes by corporations. While touring the plantation, Stacy meets the owner's nephew, Ryan Townsend. Both are heartbroken about the sale but are realistic about the expense of keeping up the property, which is rumored to harbor buried treasure. Just as Ryan, a new attorney, and Stacy start dating, she is offered an assignment that may involve Ryan as an accomplice to drug lords. Her investigation makes them both targets for a stereotypical South American drug lord, and ultimately Foster's unusual romance combines an otherwise gentle read with some real violence that may turn some readers away while intriguing others."

¾ Patty Engelmann, Booklist
Copyright © American Library Association. All rights reserved

"A satisfying story filled with twists and turns"

"Romance readers who enjoy steamy stories of love and plots which also involve a strong independent woman will find this filled with both: when newspaper reporter Stacy meets the handsome, alluring Ryan, she is immediately attracted to a man who may prove to be involved in high crime. The trappings of a romance and the steamy descriptions of lust blend with realistic portraits of a career woman challenged by a traditional male's view of her life - in a satisfying story filled with twists and turns."

¾ Internet Book Watch

"Readers who like suspense, mystery and intrigue with a romantic edge will enjoy the blend in Bayou Shadows, set in colorful New Orleans, where young reporter Stacy Stimmons finds herself challenged by both danger and love"

¾ Marian Coe, award winning Author of Eve's Mountain

"A free-spirited reporter leads us through a world of adventure and romance in this fast-paced novel from a new Southern writer."

¾ Ann Brandt, Author of Crowfoot Ridge

"Bayou Shadows, a new voice emerging from the grey moss, wisteria and magnolia. This action-packed novel introduces a modern Southern woman newspaper reporter who is a tiny package of TNT. B. J. Foster knows her way around, from lake Ponchartrain to Bourbon Street; she knows the docks, the city room of her paper, and the old South. A good read."

¾ Taylor Reese, Author of numerous short stories and Humor And A Little Bit More

"Bayou Shadows moves-no, runs-forward with flair and vitality. Action and suspense flow on the page as easily as a pirogue on the bayou."

¾ V.T. Abercrombie, Poet, Author and Publisher

"This is a modern-day love story, with the action of a thriller and the message of today's woman."

¾ Jack R. Pyle, award winning writer of The Sound of Distant Thunder

"Writer draws on travel,

study for first novel"

"There is something special about Southern writers. They paint more vibrant pictures with their words. They don't worry about verbal economy when it comes to telling a story. And they know how to tell a good story.
The Midwest Book Review has hailed Texas-born B.J. Foster's Bayou Shadows, published by Cresent House, "a very good story and a truly touching tale." It goes on to praise the author's easy, straightforward style of writing, calling it descriptive and endearing.


Foster, a graduate of Virginia Intermont College, grew up on the east Texas Gulf Coast and spent many years traveling and studying the swamps of southern Louisiana. She was intrigued by myths and legends of New Orleans and chose that city as the backdrop for her first novel of love and suspense. A Fast-paced, entertaining story, Bayou Shadows is a good read and will appeal to a large audience.


The characters are romantic with more depth, making them more convincing. The plot is well-defined and pulls the reader into the intrigue and action of the well told tale.


The character of newspaper reporter Stacy Stimmons is that of a young woman struggling with her own career goals against the traditional background of courtship and love. When she meets the hansom Ryan Townsend, she is immediately attracted to a man who may prove to be involved in high crime.
Blending romance, mystery and adventure, Foster has told a tale of worth that may be instructive to a broad audience of readers. One reviewer says "Bayou Shadows' sizzles with suspense, excitement and sensual tension; it is an action-packed page turning story set against the slow southern drawl of New Orleans and filled with danger and the intrigue of love, jealously and betrayal."

¾ The Times and Democrat

Customer Reviews

Great romantic thriller!, August 30, 2001
Reviewer: Jimmyplm from Micaville, NC

If you are a fan of romance and action, then this is the book for you. I absolutely love this book. It is one of the most interesting reads I've had in a long, long time. Pick up a copy of it today! And don't be shocked to see this book made into a feature film one day, or maybe even in Oprah's book club.



I couldn't put the book down!!!!!, July 29, 2001
Reviewer: Mary Snead from Roanoke, VA

While I was on vacation in New Orleans I was in a book store and your book cover caught my eye. And I was lucky enough you were there signing copies of your book. I took this book on my next trip to Vegas and I couldn't put the book down !!!!!!! This was one of the best stories I have read in a long time and I stayed in my room in Vegas till I finished reading the book. I am wondering have you written any more books and if so please let me know and I plan on going to buy them? Thanks again for a wonderful story about the bayou life!!!!!!!!!



Edge of your seat reading, March 28, 2001
Reviewer: Joan Faulder from Alger, Ohio and Gina Corso from Mobile, Alabama

My sister lives in Alabama and was lucky enough to meet you, and got an autographed copy of your book Bayou Shadows. When she came home to Ohio in February, she brought your book with her, finished it on her trip with rave reviews and left it for me. I just finished reading it. I read it straight through in one evening, couldn't put it down. We both loved it. Very descriptive, edge of your seat reading material. Thank you, we really enjoy your work and will look for more.

It's a real page-turner, January 14, 2001
Reviewer: LaTrelle from Jacksonville, Florida

It was nice meeting you in Books-A-Million in Jacksonville yesterday. I bought your book Bayou Shadows because I love New Orleans and it's history. It is a real page-turner. I read it all last night. It is a perfect combination of a believable romance and suspense in romantic New Orleans. The book has depth and it is obvious that you have done your research. It is refreshing to find a book that brings back traditional romance and yet deals effectively with the work ethics of the modern day woman. I look forward to more of your books in the future. Will there be a sequel to Bayou Shadows?

Perfect Balance, July 30, 2000
Reviewer: A reader from Northeast USA

I thoroughly enjoyed reading Foster's novel. Mixing romance and mystery makes for entertaining reading. Stacy Stimmons and Ryan Townsend are memorable characters. I will read more of her descriptive novels.

Beach Book!, July 22, 2000
Reviewer: A reader from The South

This is a great book to take to the beach--mystery, Adventure, and romance at its best. A new Southern writer who has command of the subject.



Run, Don't Walk!, May 29, 2000
Reviewer: angelkpr1 from USA

Run, don't walk to the nearest bookstore to get this first offering from B.J. Foster! Southern Romantic Fiction welcomes Ms. Foster's first novel and eagerly anticipates her next.

Bayou Shadows sizzles with suspense, excitement and sensual tension; it is an action packed, page turning story set against the slow southern drawl of New Orleans, the danger of the Caribbean and the intrigue of love, jealously and betrayal.